NEXT BREEDING….. Yours Truly Fantazia xxxxx  BkR Hollywood Joey (spring 2020)
Yours Truly Frenchies Izabella
Izabella is one of the latest additions to my breeding program… I purchased her from Gary Enos Jr out of Las Vegas, NV. Her DNA is ay/at dd bb no brindle no pied. Excited to hopefully produce my first lilac with her in early 2020.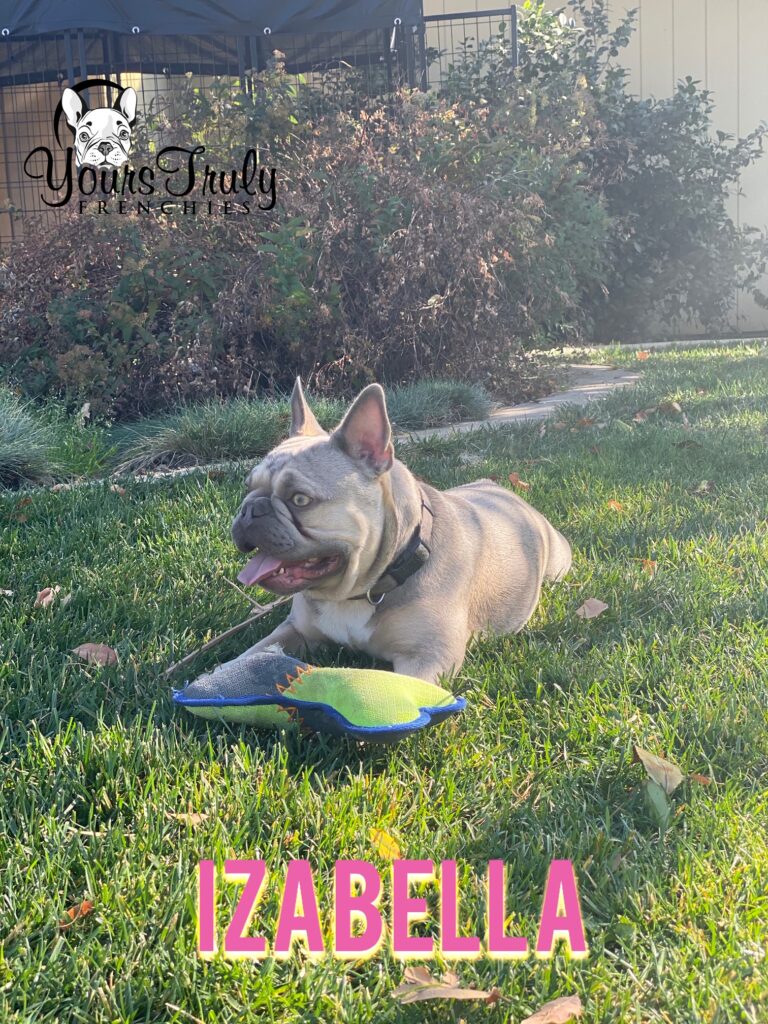 Yours Truly Frenchies Ziva
This is my new blue brindle female I purchased from southern California. Here parents are both under 21 lbs so I expect her to end up nice and small. She is a very sassy lady with lots of spunk.
Cali Bred Bullyz Jazmyn Yours Truly
Let me start off by mentioning her father is thee, "WCB Philthy Rich of The Bully Market." Jazmyn is sure one hell of a character. She never ceases to put a smile on my face even when she is bad. Jazmyn was born on May 20, 2016 , she is a sable. Her DNA is (Ay/a) Dd. Jazmyn was bred to a black and tan owned by Cali Bred Bullyz. Her litter was welcomed into the world via C-section on September 27, 2017. She produced 3 healthy puppies, 2  sables and 1 black and tan. Jazmyn won her first three shows she attended in February, March and April of 2017. She is currently very excited for more ABKC shows she has coming up this year. In 2018 Jazmyn had 2 litters, 5 pups in the spring and 2 pups in the fall to set her up for retirement at the Yours Truly compound.
Jazmyn pictured on Woodruff Lane on the way to get her progesterone testing done @ Sirius Canine Fertility.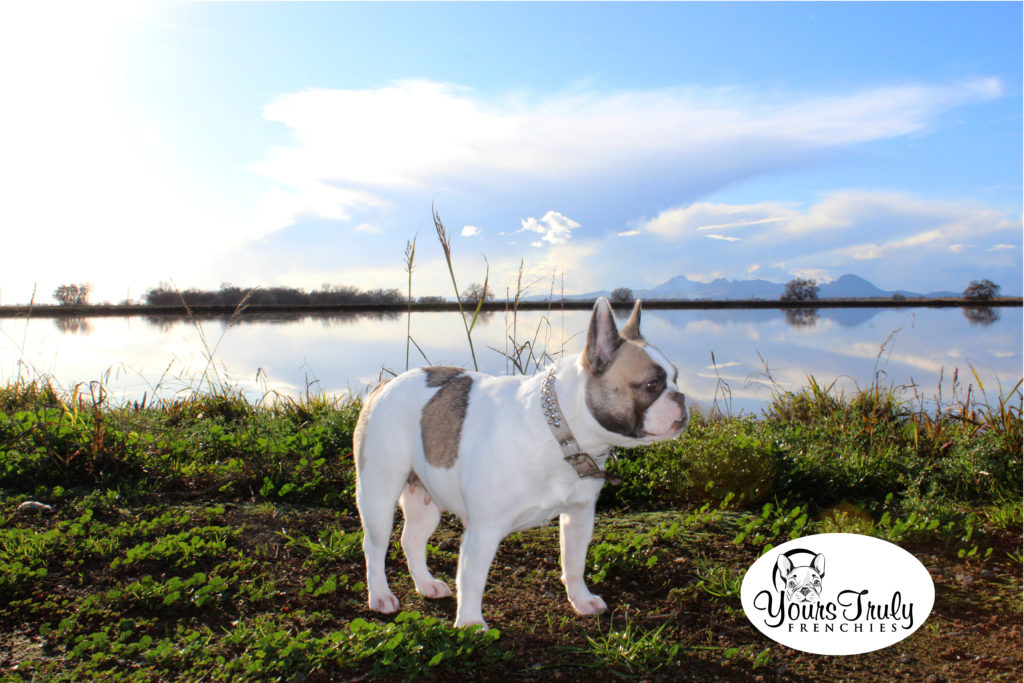 Yours Truly Fantazia
Our fabulous Fantazia aka, "Fanny-Pack" shares the same father as Jazmyn, Philthy Rich, making them half sisters. She was bred by West Coast French Bulldogs. One big difference you will notice quickly when comparing her to Jazz is that Ms. Fantazia is a tank. She also has a wider stack as well. Her DNA is (At/a) and her color is cream pied. Fanny lives a life of leisure in Redding, California. She enjoys sun tanning on the houseboat in Shasta Lake and running around the backyard with her friends. Oh and belly rubs too!
10/1 Update — Fanny received 2nd place @ the recent dog show in the 9-12 month female class! She really has developed into such a great looking frenchie! Also Fantazia went into heat for the first time a few days ago so we will be breeding her sometime in the next 6 months. Cannot wait for that breeding, Fantazia x Risky Bizness will be fire!!!!
1/10/19 update… I bred Fantazia to my second stud , Zeus and they produced a black and tan singleton, named Bullet. I plan to skip her next heat and then come back with her final breeding in the fall of 2019.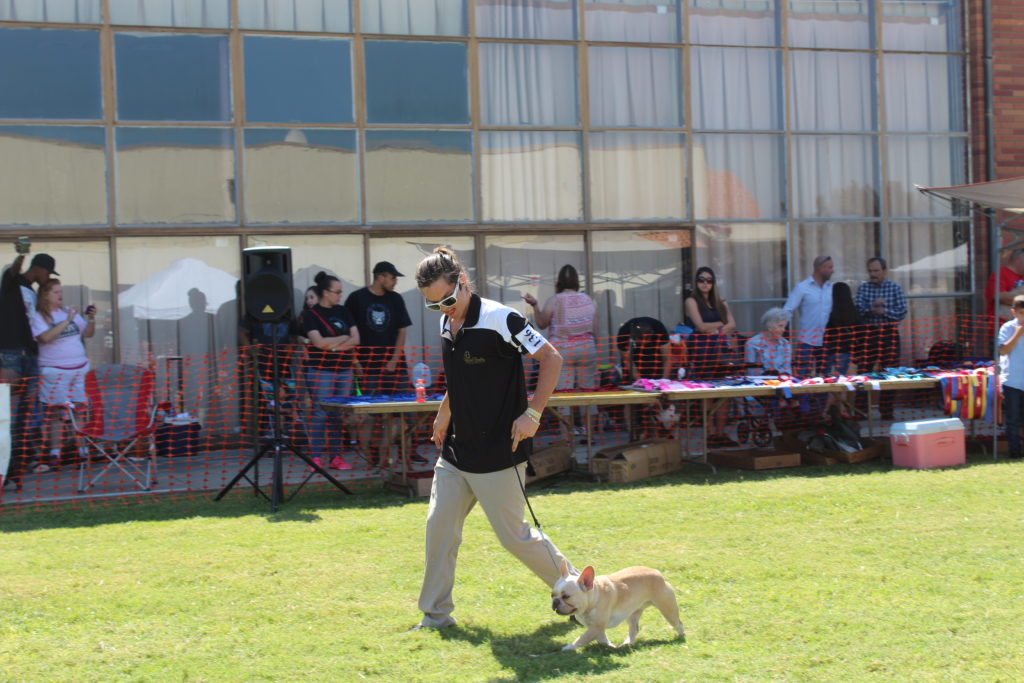 Fantazia loves to play during the holidays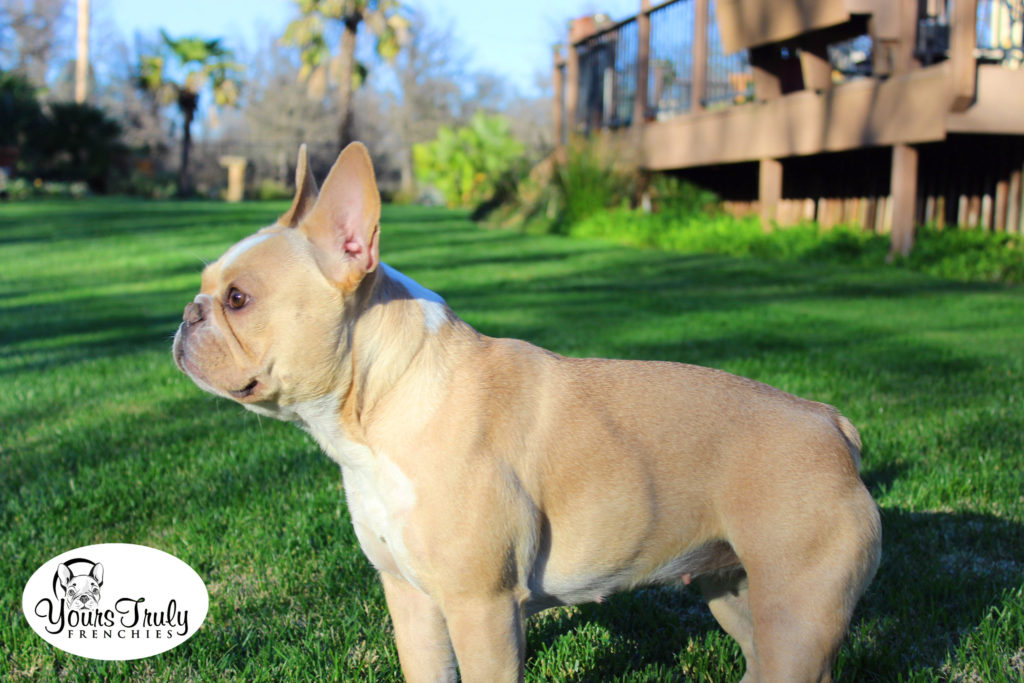 The Yours Truly Promise
We are here to produce show quality frenchies for families anywhere. Our quality is top shelf and our love for the animals is as well. All of our pets come with health certifications, shots and an info packet on caring for your new family member.